The loss of teeth from decay, periodontal disease or other causes has been a serious concern for people from days of old.
In the past, the loss of a tooth was dealt with by grinding down the healthy teeth on either side in order to create a bridge, make partial dentures or adopting other approaches. The drawback of such procedures, however, is that once a tooth is trimmed away it will grow increasingly weak and prone to decay. A burden will also be placed on the healthy teeth on which denture springs rest, with these teeth sometimes breaking down as a result. Due to this vicious circle, repeated treatments can sometimes lead to the loss of almost all teeth in a patient's mouth.
The implant was developed as a solution to such dilemmas. Simply stated, implant treatment is a method in which an artificial root is embedded into the space where the root of a lost tooth formerly grew, and fixed into place. Once an implant has been inserted and firmly fastened into the jawbone, there is no need to remove it.
As you can see, therefore, implants are a breakthrough that can be described as "second teeth."

With conventional treatment, healthy teeth in the vicinity of the lost tooth are ground down, with a bridge attached. While the teeth trimmed and shaped in this way fulfill the role of supporting the bridge, the portions of a tooth that are effectively drilled away never return to their former status. What's more, the portions that have been ground down become less resistant to bacteria, increasing the potential of tooth decay.

A dental implant replaces the tooth's original root. It effectively serves as a pillar, eliminating any need to grind away healthy teeth in the vicinity.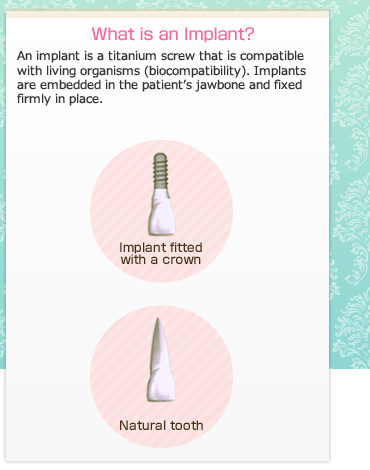 A diagnosis is performed of the status inside the patient's mouth. Also used are panoramic radiography, X-ray tomography, model diagnosis, bone pattern diagnosis, occlusion (bite) checks, periodontal disease examinations and other procedures. When the conditions in the jawbone appear poor, more detailed examinations are performed with computer tomography (CT) and computer analysis. Precision image analysis is critical for ensuring that patients have no sense of anxiety about implant surgery and the subsequent recuperation, as well as for guaranteeing that implants are embedded with full safety and in the ideal location every time.

The key point in formulating an implant treatment plan is to perform an examination and provide a diagnosis not only regarding the prospective implant, but also to clarify all issues in the patient's mouth. For implant treatment to succeed and enable the actual implants to be used for many years, it is essential to maintain excellent overall oral health.

Counseling sessions are held with the patient to determine the final implant treatment plan. The dentist will provide detailed explanations of all information pertaining to the implant procedure. Implant treatment will only proceed after proper counseling and acceptance of the proposed plan by both the patient and the physician.

Implant surgery is performed with use of local anesthesia. With a single tooth, implant surgery normally requires 30 to 45 minutes. Naturally, there is no need for hospitalization. After being embedded into the bone, the implant steadily bonds with the surrounding bone tissue. This is known as "osseointegration," and represents the largest single characteristic of implant treatment. Because implants are not simply embedded, but effectively incorporated into the bone, they provide truly outstanding strength.

When the patient has healed from the surgery, a new prosthetic tooth is placed over the implant. These artificial crowns are fixed in place using one of two methods. They are either screwed into the implant or attached to it with cement. In recent years, cement-type implants have become the mainstream.

To ensure extended service life for implants, it is recommended that regular checkups and cleaning visits be scheduled at 3 to 6 month intervals.
Would an implant be a good idea? How much do implants cost? How long does the procedure require?
For answers to these and other questions, please visit our clinic for an on-site consultation.